You are here > City > towns > Iringa
The town of Iringa is located at 1635 m above sea level. It is a fertile area with lots f vegetables, fruits, and tobacco. The famous food factory DABAGA is found here. Iringa is just 2 hours drive from Ruaha National Park.
Iringa is a charming, if somewhat down-at-heel town which lies at the heart of Tanzania's tea industry. Market days bring forth an eclectic mix of expatriate wives dressed in pastel frocks shopping with their baskets and mingling with raw tribes people from the bush for their monthly trading spree. If you go shopping here, don't forget to stock up on Dabaga Chilli Sauce, an East African legend. Set on the slopes of a cliff above the Little Ruaha River, this is the main centre for travel to the Ruaha National Park.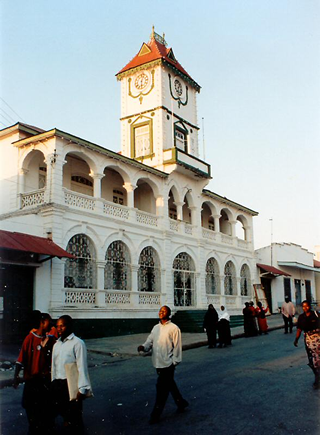 A mix of faded Bavarian and vibrant African architecture distinguish Iringa from most Tanzanian towns, and the place has a rich history.
Accomodation..
Recommended lodgings in Iringa include the Isimilia, the Sunset Motel, the Railway Hotel (80km from the nearest station) and Ruaha International Guest House. For archaeology buffs, a trip to Isimilia, 15km west of Iringa, is mandatory. Besides the astonishing free-standing natural rock pillars formed by millions of years of weathering, this is one of Africa's most important sites for exploring the relics of the Acheulean Age (about 60 000 years ago) and the site is littered with hand axes, hammers, cleavers and stone picks.