You are here > City > Towns > Arusha
Now that the giant airbuses fly into Kilimanjaro Airport, Arusha is becoming a most accessible gateway to the game parks (Serengeti, Lake Manyara and Tarangire, as well as the Ngorongoro Crater).
If your safari doesn't start in neighboring Kenya, it will most likely start in Arusha. The city (pop. 150,000) doesn't have many attractions of its own, but it sits in a pleasant, lush valley.
Divided by the Naura River and set near the base of 15,000-ft/4,575-m Mt. Meru, Arusha is also in sight of Mt. Kilimanjaro (both mountains are frequently hidden by clouds, especially late in the day).

view more info
Accommodation
It is usually a good idea to stay in Arusha both before and after your safari or trek.
Most of the accommodation in Arusha Town itself is overpriced and of poor quality. In addition, walking the streets of town after dark definitely not recommended.
The best places to stay are all located outside the centre of town, on farms, coffee plantations and garden suburbs….
view more info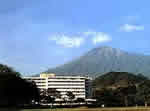 Hotels In Arusha
Our Arusha Hotel Guide is your online resource for Discount Hotels in Arush Tanzania…
view more info