You are here > Travel > ZanAir
ZanAir

Since our inaugural flight in 1992, ZanAir has continued to establish a quality reputation, serving esteemed clientele. ZanAir is an acknowledged expert within Tanzania serving all destinations, including remote unpaved bush locations.
ZanAir is confident in its second-to-none service.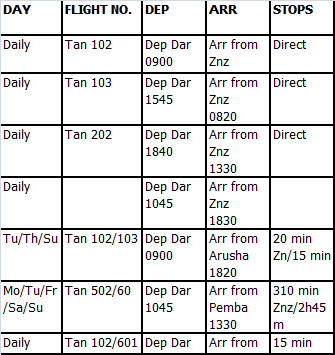 All Zanair flights operate from the Domestic Terminal (TBI). However we have a complimentary shuttle service which operates between the two terminals. You will be required to inform us about your international arrival in to Dar. Eg which flight you will be disembarking from and what time.
Recently Tanzania has become strict on smoking regulations in terminal buildings. Dar-es-Salaam airport terminal buildings are designated no smoking, however smoking is permitted in clearly marked areas only. ZanAir does not permit smoking onboard.