Introduction

Immunization

Malaria

Medication

Medical Clinics

What to Pack

You are here > Tourism > Introduction > Malaria
The malaria parasite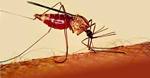 Malaria kills over a million people a year and is second only to tuberculosis in its impact on world health.
The parasitic disease is present in 90 countries and infects one in 10 of the world's population - mainly people living in Africa, India, Brazil, Sri Lanka, Vietnam, Colombia and the Solomon Islands. There are four main types of malaria, all spread via moquitoes.


Mount Kilimanjro is located at the north/eastern tip of Tanzania. For the adventurous, a climb of Mount Kilimanjaro is a must taking you through the mists of equatorial jungle to reach the snows and breath-taking views from the summit.
Location: 3.07 S, 37.35 E
Elevation: 19,335.6 ft (5,895m)


view more inf