You are here > City > Life Style >

Marriage and Family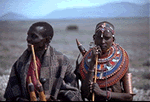 President Julius Nyerere's form of self-help socialism was based on ujamaa, or "familyhood". Tanzania's extended families have been encouraged to act as economic and family units. more
Recreation
Visiting and socializing with friends and family are the most common recreational activities. Football, track and field, and boxing are the most popular sports.
Diet and Eating


Tanzanian staples include grain, fruit, and vegetables. Common meats are chicken, goat, beef, and lamb. A popular snack or energy food is kitumbua, a fried bread common in much of East Africa. more

Kivukoni Fish Market has recently been rehoused in a new structure on Dar es Salaam's seafront. Boats deliver their catch at dawn directly to the market and a frantic fish fracas ensues. Wade in for red snapper, lobster, prawns, squid, barracuda and shellfish fresh from the Indian Ocean.
Socializing


The most common Swahili greeting is Hujambo?, which means "How are you?" or "Are you well?".
Hamjambo? is used when greeting more than one person, and is usually followed by a handshake. more